This if the first issue of my weekly newsletter about smart mask tech. I will experiment with different types of formats over the next few months, and feedback is welcome.
This list can only grow with the help of its readers, so please forward this to one person you know that might be interested.
"The mask is the new t-shirt" - David Galbraith
🎭👩‍🚀 Dept of New Masks
BioVYZR, $172 - a full cover respirator. Bulky, designed by someone that lives in a cold place without sun, crowded public transport, crime (yes!, it's Canada!), or an itchy nose (plus fun times having to remove it to clean it when you sneeze. Terrible product with an unclear use case. Few will use it during Covid-19, nobody after. Having said that I can see a version of it for babies (not incidentally, that's how gas masks for babies look like) and toddlers, especially ones that are immunocompromised or cannot wear a mask due to facial skin issues. Sold to 770 customers on Indiegogo.
Curious to see how they deal with condensation issues (my guess is that they do not, because they designed it in Canada over spring/winter, and not in Hong Kong with melting heat).
—
Amulet PX-0 Guardian Mask: Electronic Reusable Air Purifying Face Mask, $65 - there is nothing positive I can write about this. The more I look at it, the worse it gets. Designs, comfort, durability, sustainability, branding (the name!!! What were they thinking?!). Kudos for them to have sold over 500 units but that's it. With those volumes the mask can't go into production as it won't even cover the salary of one person, not to mention tooling, testing, certification etc.
🗞📱General mask news
Are Face Shields The New Face Masks? (Refinery29) - No, but they are better than clothes, and hospitals have a shortage of those, so you shouldn't be wearing one.
🔬🧤 Dept of Material Science
Abaca face masks show 7 times better filtration rate than cloth masks - When life gives you lemons, make lemonade. Unless you are in the Philippines in which case life probably gave you bananas so you make masks with banana fibers, and then claim to increase filtration efficiency on masks (compared to cloth, not actual filters). Also in the Philippines you can buy 🍌 ketchup. True story.
👗👚 Dept of Fashion
Chinese designer makes silk coronavirus masks (Reuters) - just N95 masks with a silk overlay but the market for masks as a fashion accessory is going to be big (and short lived, probably).
Nude Fashion Masks ($30, out of stock) - Fabric masks that match a variety of skin colors. Given the success of brands like Fenty this looks like a great idea. I imagine there is going to be a fraction of the population that will never accept wearing masks, so the most palatable option is going to be a "nude" look.
📋🗄 Dept of Social Studies and interpersonal relations
Deaf Belgians demand transparent masks for lip-reading during coronavirus (Reuters) - this will be an issue, but have not seen how to deal with condensation and spit issues over clear surfaces.
Abe's two-mask handouts to be delivered by Japan Post starting this week - Japan is sending masks to their citizens via mail. Great idea. I think Switzerland and Luxembourg did the same.
📚👨‍🏫 Dept of History
Before face masks, Americans went to war against seat belts - behavior change coupled with human stupidity is hard, history shows.
🚙💨 Dept of Pollution
French alarm at Covid-linked Med pollution - disposable PPE is going to become a massive problem within a day after the lockdown will be eased.
🦠🏥 Dept of Covid-19 and assorted diseases
"Mask wearing amongst the Hong Kong population increased from 74.5% in January to 98.8% in March" The Lancet: Impact assessment of non-pharmaceutical interventions against coronavirus disease 2019 and influenza in Hong Kong.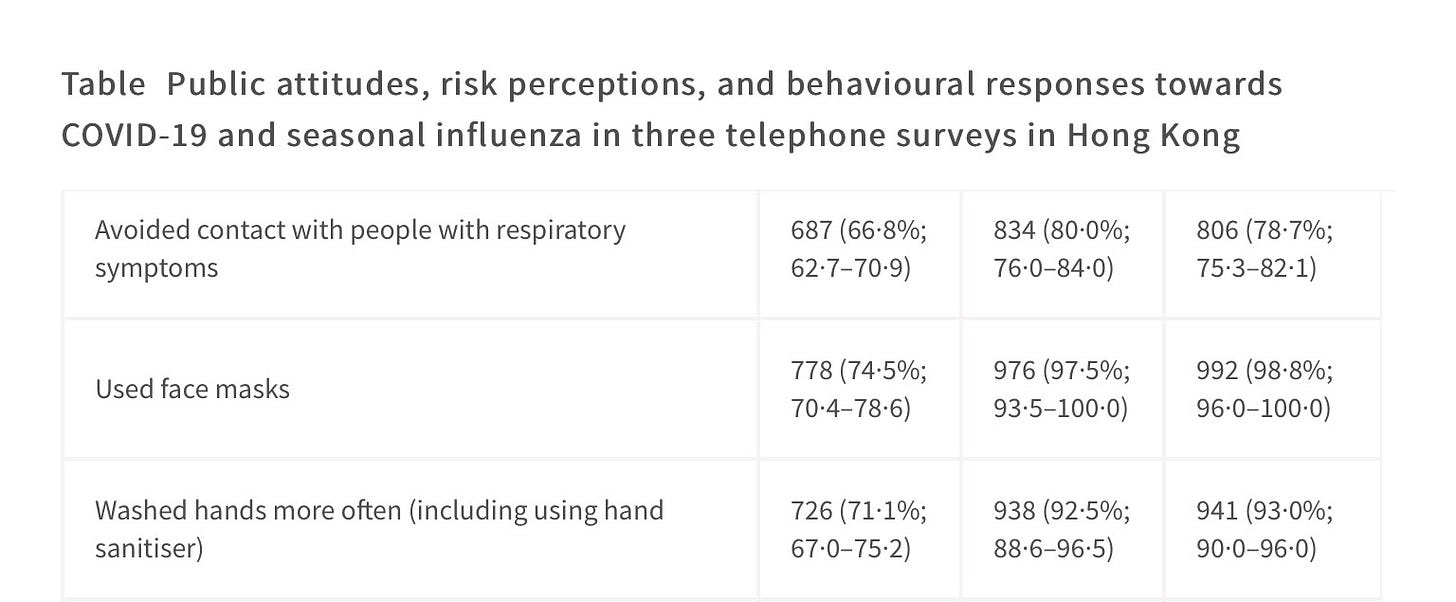 —
Mildly funny joke of the week
Over for now. Thanks for reading.
~Rodolfo